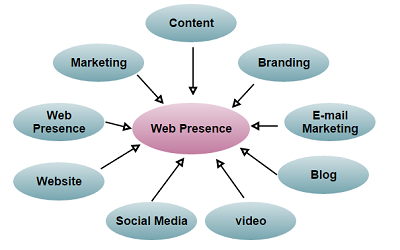 The web is so essential for businesses today. Web presence has to be an integral part of any business' strategy. Being visible in different spheres online.
Request Service
Web Presence
The most important piece of a business's web presence is the website.
Creating a website requires a good deal of thought; it's important to plan what information you want on the site, what the layout will look like, and how each piece will be connected.
Think of your website as a hub; it's what people will see when they look for you. it is very important to define goals of a website, and they are usually three:
create an online presence
to differentiate your business
to capture leads
Create Online Presence
Creating an online presence is the most basic reason for building a website. This means building a site that includes your business information, highlights what makes you special, and gives consumers a way to contact you.
Differentiating Your Business
Making your business stand out takes a more advanced strategy. Maintaining a blog that portrays your thoughts and insights can help your website stand out and help consumers better understand your business.
Capturing Leads
A good business website can be used to capture potential leads. As the site grows it becomes a community for customers and potential consumers. Connect with potential consumers and find a way to continue marketing to them. Your website can be the elevator pitch and your connection the long sell.
The Website
The homepage will generally be the initial point of contact with your consumers. A good homepage will answer the questions "What do you do?" and "Why should I trust you?" Consumers will make a split-second decision on whether they'll stay to learn more or go to a competitor. Don't lose them at the start.
An "About" page can further reinforce the trust factor. Explain exactly what your company does, in-depth. I want to know who you are, why you do what you do, and what makes you special. This page should make an impact and impress your consumers.
Finally, create a "Contact" page. This page should clearly explain to your customers how to get in contact with you. Make sure it outlines your address, phone number, email address, and any other way someone can reach you. You might even want to include a Google Map with directions to your store or office.
These three pages create a basic online presence, but not much more. If you want to set your business apart from everyone else, the best way to do that is to create a company blog.
The Blog
For some reason, many business owners shy away from blogs. What they don't realize is that most business "News" sections are blogs. "Blog" simply defines any continually updated news or content section of a site. In fact, this is technically a post on a blog.
So why is a blog important? For one, it shows that you know what you're talking about. It helps you identify yourself as an expert or unique. Secondly, a blog is constantly updated. It gives readers a reason to come back to your site. The more contact you have with your consumers, the more likely they are to buy from you.
Also, consumers have become savvier and will search out information. They want more than a simple explanation of what your product does. They want to know how to use your product, examples of interesting things people are doing, and how you can make their life easier.
After you have a site with information and a blog that is ever-growing, you'll begin to experience a growth in site traffic. It would be a shame to ignore these potential customers. Which leads us to our next step; lead capture.
The Newsletter
It's here that we begin building leads from your website's visitors.
The first and most important element is a newsletter form.
There are a number of services you can use for newsletters such as Aweber, MailChimp and ConstantContact; it simply depends on what you want. The newsletter cost quickly pays for itself. Email marketing is one of the most effective ways to generate sales.
Getting consumers to sign up for your email list means you no longer have to wait for them to come to you, you can go to them. You can offer your core consumers specials and keep them up to date on new products or changes.
Social Media Accounts
Another option for capturing leads is social media. Microblogs and social networks such as Facebook and Twitter can help you connect with and contact those within your core community. For this strategy to work, your blog should serve as a central hub. The hub sends consumers to your respective social media profiles to build the connection.
Businesses with a Facebook Fan page can include a Fan box on the site to make it an easy process to fan the business page. If you have an active Twitter account, consider adding the "Follow Me on Twitter" button. These two elements can help turn a one-time reader into a connected consumer.
Want to Know More?
If you need any additional information, feel free to drop us a line anytime.
Get In Touch